Are you frustrated with a messy sink area, drips, water splashes on wet counters, or constant cleaning? Now you have a more practical way to keep your sink area clean and dry and not have to wipe your countertops constantly.
The Splashpad Sink Guard: Keep Your Counters Clean and Dry
For a sink guard that keeps your countertops dry, order Splashpad's sink guard today! With its non-slip backing and perfect fit over the edge of the bathroom or kitchen sink, it's the perfect solution for keeping counters clean and simplifying your day.
Benefits of Using Splashpad®
Keeps Your Sink Area Clean & Dry - Our premium soft absorbent microfiber stops the water splashing out of your sink and keeps your sink counter dry, so you don't have to wipe it down.
Protects from Splashes & Stains - Have peace of mind knowing this quick-drying waterproof mat will protect your marble, quartz, or other countertops from water splashes and stains, and keeps your clothes dry, too.
It's a Time Saver - No More Constant Wiping and Cleaning - Enjoy not having to clean constantly and save time, with this easy-to-use countertop protector mat that is stylish, suits your modern lifestyle, and makes your life that much easier.
Reduces Wear and Tear on Your Surfaces - The Splashpad sink splash guard not only keeps your countertops clean and dry but also protects them from the long-term damage caused by constant exposure to water.

Convenient and Economical - Compared to the recurring cost of cleaning solutions and the immense effort of regular wiping, our sink guard is a one-time investment that's an economical and hassle-free solution. Save time and simplify your every day life.
Eco-friendly Option - By reducing the need for paper towels or disposable wipes, the Splashpad sink guard is also an environmentally-friendly choice. It's a step towards a more sustainable lifestyle while keeping your sink area neat and tidy.

Stylish and Functional - Available in a variety of colors, the Splashpad sink guard is more than just practical; it's stylish too. Add a touch of luxury to your kitchen aesthetics, while maintaining functionality and cleanliness.

WAYS TO SHOP /// FREE US SHIPPING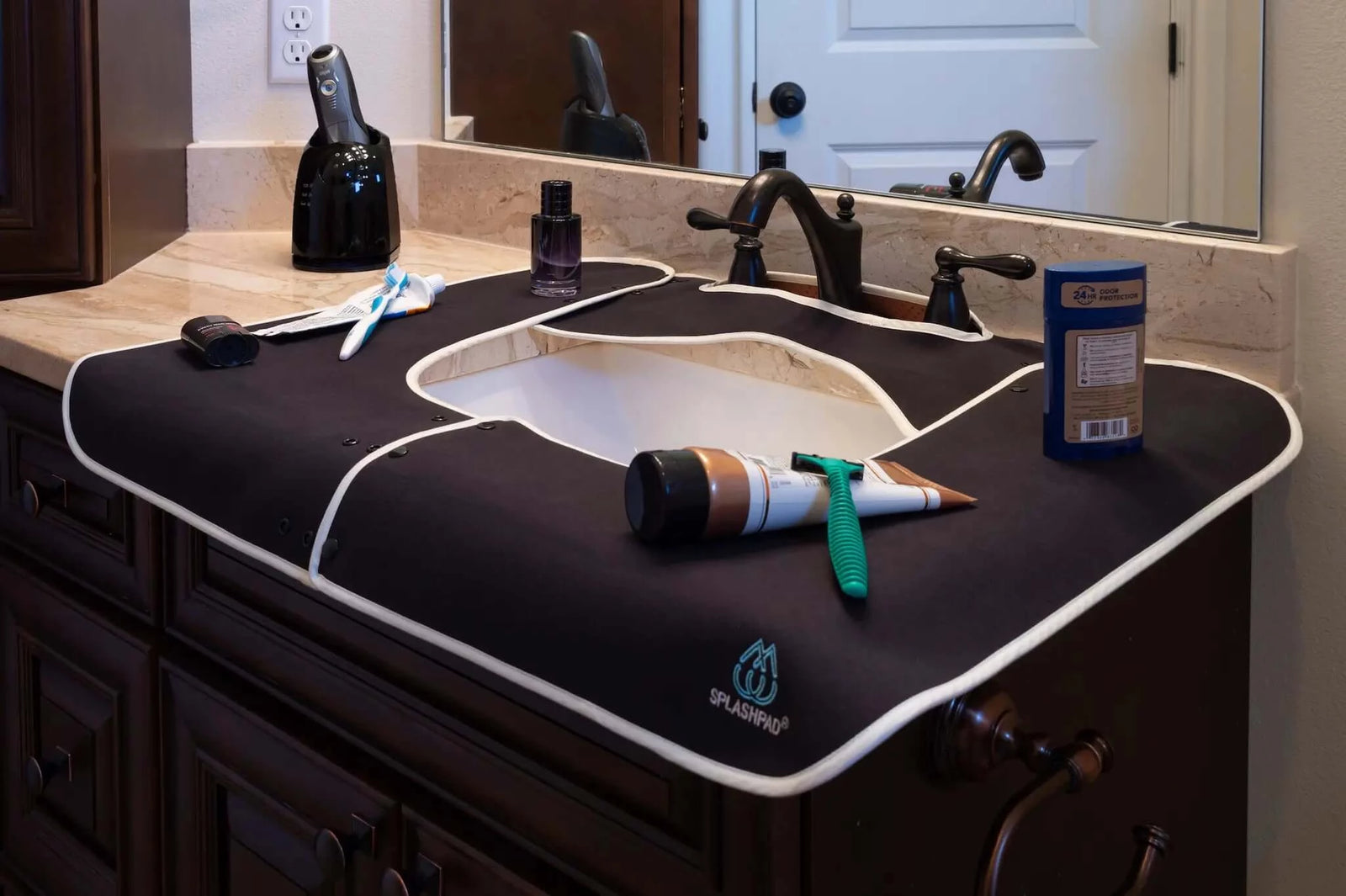 Features of the Splashpad Sink Guard:
The only splash guard that covers the sink area & behind the faucet.
Made with high-quality microfiber material, designed to absorb drips and splashes.
Designed to stay out on your counter daily or for the week. The non-slip backing helps keep it in place until you're ready to throw it in the wash with the rest of your towels.
Machine washable. Say goodbye to using towels and tissues.
Fits over the edge of your sink creating an effective barrier to protect your countertop.
Available in multiple sizes and colors to fit your style.
Upgrade your household with sink splash guards to simplify your day and experience a cleaner, drier, and more efficient cleanup for your countertops!
★★★★★

Love this! Well made and exactly as described. Protects my marble bathroom countertop from makeup, etc. Great purchase!

Glenda
★★★★★

The splash sink cover is so cool! The quality is perfect & the description is spot on! I am enjoying that I don't have to dry up the water around my sink because it's my helper the less I have to clean is a joy & the fit is great I have it in my bathroom at it's small size. I like them so much I bought two of them & I am so glad I did & you will to. : )

Susan
★★★★★

Perfect!! Exactly what I needed and adjusts great to my weirdly sized sink

Sarah
★★★★★

This is my second order of this product, since I was thrilled with the performance of the first order.

Sue
★★★★★

This is the best thing I never knew I needed!! I do my makeup in my bathroom mirror and it helps to keep my sink clean! Great quality! I will be ordering again!

dejaqtpye
★★★★★

The item has great quality it was as described and exceeds my expectations

Gianna
★★★★★

This kitchen SPLASHPAD is wonderful! The material is high quality. I was tired of endlessly wiping water around my faucet and counter top. The water drips right onto the Splashpad...no more wiping...

Lynette
★★★★★

The Splashpad arrived promptly after ordering. I have been a splashy dishwasher for decades with water on the counters and floors. So, I was thrilled to find this item...the Splashpad has been very useful for keeping water off the counter...

Karen
Clever Items to Upgrade Your Life
AS SEEN ON REALSIMPLE.COM
"... protect the surface from splashes and stains, and helps keep you and your shirt dry, too."
Our Story
Female Owned and Operated
Founded in 2016 by Heather Pinkerton, a tidy enthusiast, we support people in keeping a clean space to help their well-being.
We create reusable high-quality sink mats that keep your countertops clean and dry while you wash dishes, apply makeup, shave, or do any other sink routine.